Somalia commemorated the International Day of the Midwife on 8 May 2017 with pomp and splendor at a function held at the Mogadishu Police Academy. Somalia Prime Minister His Excellency Hassan Ali Khayre attended the commemorative event, which was combined with the graduation of 52 midwives from Mogadishu Midwifery Training Institute.
The International Day of the Midwife is commemorated globally on May 5 every year to celebrate the life-saving work of the world's midwives.  The theme for this year's commemoration was "Midwives, Mothers and Families: Partners for Life".
Speaking at the beginning of the celebrations His Excellency Khayre said Somalia is on the right track to development and commended the 52 graduating students for being part of the development agenda.
"Women's role in the development of this country should not be taken lightly. They have always played a key role and young women should therefore not be left behind in rebuilding this country," said the Prime Minister.
He said that the Somalia Government is making health a priority to protect its citizens from preventable deaths and pledged to work on rebuilding the country's health infrastructure to ensure health for all.
His Excellency Khayre also pledged more employment opportunities for the young women in Somalia.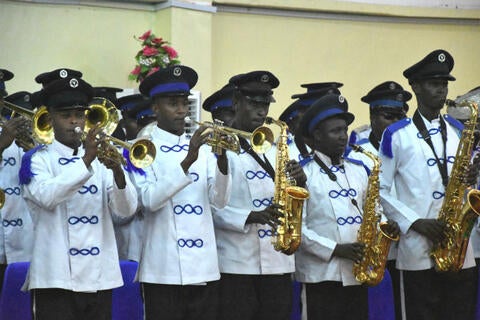 the Police Band plays at the event
Minister of Health Honourable Fowsiya Abiikar Nur commended UNFPA Somalia for supporting midwifery and other programmes aimed towards saving the lives of women and new borns.
Principal for Mogadishu Midwifery Training Institute Ms. Hawa Abdullahi Elmi expressed her gratitude to UNFPA Somalia for being a reliable partner in creating a good human resource base for the health sector in general as well as strengthening education for a very important cadre of health workers.
"In 2013, the Ministry of Health carried out a midwifery assessment and found only 25 midwives in South Central Somalia with 18 of them over the age of 50 years. To date 148 midwives have graduated from the Mogadishu Midwifery Training Institute with UNFPA's technical and financial support," said Elmi.
UNFPA Somalia Representative Mr. Nikolai Botev said UNFPA strongly supports the training and work of midwives and strengthened national midwifery associations to help enhance the regulatory framework for midwifery practice to ensure accountability.
"Midwives save lives, support and promote healthy families, and empower women and couples to choose whether, when and how often to have children. They also help prevent disabilities like obstetric fistula and female genital mutilation," said Mr. Botev.
He said UNFPA Somalia is grateful to the Government of Sweden, Finland, Japan, UKaid (DFID) and the Swiss Agency for Development and Cooperation (SDC) who are supporting the Federal Government of Somalia in her efforts to rebuild the health system while saving the lives of mothers and children in Somalia.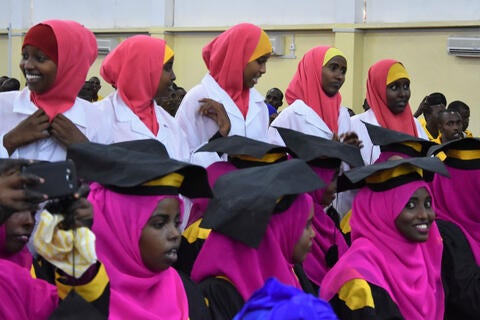 some of the graduating midwives
A Representative of the Embassy of Sweden for Somalia Dr. Barni Nor said in her speech that Sweden is a friend to Somalia and will therefore continue assisting in developing the health sector in Somalia.
She said far too many women lack access to midwifery services and as a result, each year, many women still die during pregnancy and childbirth and that there is therefore need to continue strengthening the health system.
Dr. Nor said it is important for Somalia to work hard on saving the lives of pregnant women by investing in midwifery because it is one of the countries with highest mortality rate. Somalia has one of the highest maternal mortality rates in the world, with over nearly 1 of every 22 mothers dying from pregnancy related causes.
Head of Cooperation at the Embassy of Finland for Somalia Mr. Mauri Starckman said during the commemorative event that gender equality, maternal health, sexual and reproductive health are areas that Finland is proud of and that these issues also figure prominently in Finland's strategy for development cooperation for Somalia.
"We are continuing our support to maternal and reproductive health issues by allocating 10 million euros to support the implementation of UNFPA ́s country programme for the coming four years," said Mr. Starckman.
----------------------------------------------------------------
UNFPA inquiries: Please contact UNFPA Communications Specialist, Pilirani Semu-Banda; semu-banda@unfpa.org