The Puntland Association of Midwives (PAM), together with Puntland Ministry of Health, Haji Abdi midwifery students, health service providers and civil society organizations celebrated the International Day of the Midwife on 4 May 2017 with the support of UNFPA Somalia. 
The International Day of the Midwife is commemorated globally on May 5 every year to celebrate the life-saving work of the world's midwives. Midwives are the primary care givers for millions of women and newborns before, during and after pregnancy and childbirth, and also offer families, women and girls essential counselling and education on family planning and reproductive health. Trained midwives save lives and if every family had access to well supported midwifery services, approximately two-thirds of maternal deaths and newborn deaths that occur could be averted.
Puntland Minister of Health Mr. Sayid Omar State said during the commemoration that his ministry is committed to continue strengthening and upscaling midwifery services and spoke of the successes that the Puntland State of Somalia has made in midwifery.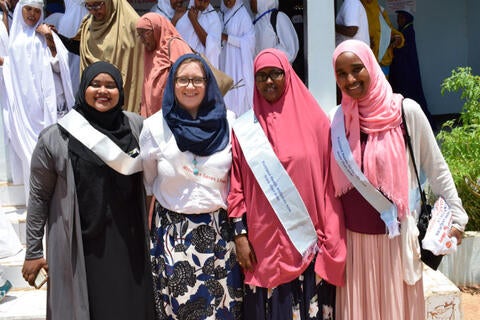 PAM leaders with the UNFPA team
"Six midwifery schools are working so far, 185 midwives have graduated and the midwifery curriculum which was introduced in September 2016 is in use by all the midwifery training institutions," said Mr. Omar. "We support 105 maternal and child health centres and seven hospitals and we have 326 registered midwives. There are still more trainings to be done, as Puntland needs an additional 1600 midwives to be trained and employed in order to meet the needs of all women and children.  MoH is committed to strengthening the employment of all midwives in Puntland," he added.
The chairperson of PAM, Hawo Yusuf said PAM is dedicated to strengthening education, practice and employment opportunities for all midwives in Puntland. She called for political commitment, improved leadership and collaboration of all stakeholders in improving midwifery.
Mr Omer Sherre, Director of Puntland Diaspora Affairs, expressed enthusiasm to coordinate and increase the role of the diaspora community in developing and resource mobilisation for maternal and child health. "We are committed to bringing top-notch skills and knowledge, as well as human resource for health, from the diaspora to Somalia," said Mr. Sherre.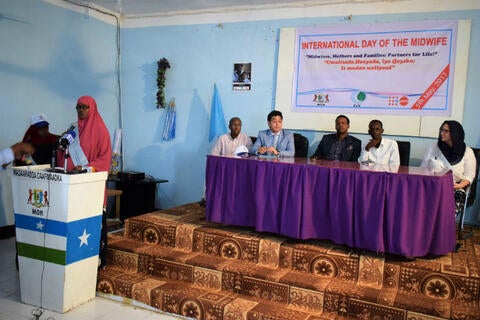 Some dignitaries and the UNFPA team
UNFPA Head of Garowe Sub-Office Dr. Bakhtior Kadirov stated that the presence of skilled professionals at birth protects the life of the mother and the newborn, as they are able to recognise complications early enough and provide timely interventions.
Ms. Emily Denness, UNFPA Somalia Midwifery Specialist, highlighted the need to prioritise midwifery and maternal nutrition, to protect future generations in Puntland.
"Midwives are trained to recognise malnutrition along with other complications. They work to ensure that families and communities are informed and aware of the need to prioritise mothers," said Ms. Denness.
----Kamal Abdukadir
----------------------------------------------------------------
UNFPA inquiries: Please contact UNFPA Communications Specialist, Pilirani Semu-Banda; semu-banda@unfpa.org
UNFPA inquiries: Please contact UNFPA Communications Specialist, Pilirani Semu-Banda;
semu-banda@unfpa.org