As we mark World Humanitarian Day, UNFPA salutes those who respond to crises around the world. This year, we call attention to the courage and commitment of women humanitarians who assist people amidst conflict, disasters and displacement.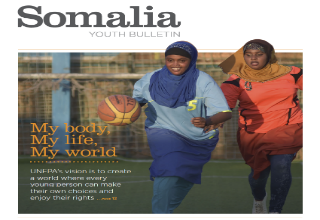 Every young person must be able to realize all of the rights and choices that they want and deserve. "My body, my life, my world!" is UNFPA's rallying cry for every young person to have the knowledge and power to make informed choices about their bodies and lives, and to participate in transforming their world: We want to ensure all adolescents and youth can make informed choices over their own bodies. We want to en...
The devastating drought continues to threaten the lives of 135,000 pregnant women around the country. Somalia already has one of the highest maternal mortality rates in the world; one out of every 22 women is likely to die due to pregnancy or childbirth-related causes during her life course.