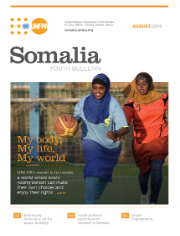 Every young person must be able to realize all of the rights and choices that they want and deserve.
"My body, my life, my world!" is UNFPA's rallying cry for every young person to have the knowledge and power to make informed choices about their bodies and lives, and to participate in transforming their world:
We want to ensure all adolescents and youth can make informed choices over their own bodies.
We want to ensure that all adolescents and youth have a healthy and successful transition into adulthood.
We want adolescents and youth to lead and participate in sustainable development.
Full review