On the International Day to End Obstetric Fistula, 23 May 2017, the Puntland Ministry of Health and UNFPA convened a high profile ceremony to commemorate the occasion. The purpose of the event was to renew the momentum gathered since 2013 in previous campaigns to end obstetric fistula and to increase public awareness about the condition.
The event, held at the Ministry Health's main hall, attracted a high level of participation representing State House, Ministry of Health (MoH), Ministry of Women and Family Affairs, UNFPA and other development partners, media organisations, women and youth groups and a famous drama group called Waberi Puntland.
Many people delivered speeches including the Minister of Health, head of UNFPA sub-Office, MoH Director of Planning, a prominent obstetrician and others.
The Minister of Health for Puntland Dr. Abdinasir Osman Cuuke highlighted the staggering number of women living with obstetric fistula around the world. "Two million women or girls are estimated to live with obstetric fistula, with up to a million more developing the condition," said Dr. Cuuke.
The Minister applauded UNFPA's substantial support towards preventing and treating, which, he said, without which the success of Puntland's recent fistula campaigns would not be possible
Dr. Cuuke said obstructed labour unattended by skilled health professionals and the inhumane practice of Female Genital Mutilation (FGM) are the main causes of obstetric fistula. "Whilst there are no quick fixes for the infrastructural and cultural factors underpinning these causes, we remain committed and are confident that we can reduce the frequency of this horrendous condition and the unspeakable suffering that it causes," said the Minister.
Honourable Cuuke outlined a clear vision for extending comprehensive emergency maternal obstetric/new-born care to those remote communities where obstetric fistula, maternal and newborn deaths are most frequent as these communities have limited or no access to professional health assistance. "We have completed a training course for 10 doctors intended to work in 10 facilities located in most hard-to-reach communities. We are also in the process of mobilising resources for upgrading and equipping these facilities," said the Minister.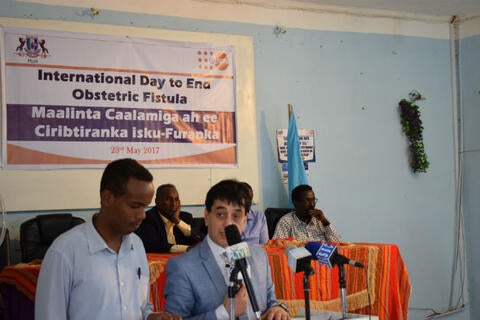 Dr. Kadirov talks about UNFPA commitment
UNFPA Head of Sub-Office, Dr Bakhtior Kadirov acknowledged the leadership and ownership demonstrated by the Government of Puntland State of Somalia in its support and stewardship over the concerted efforts of saving maternal and newborn lives through the Action Plan on the Campaign on Accelerated Reduction of Maternal Mortality in Africa (CARMMA) and the Acceleration Plan on Mother and Child Health.  Dr Kadirov also commended the active role played by the Somali diaspora community who mobilized funds to supplement the 2016 fistula campaign that saw successful surgical repairs for 60 women and girls.
"A country's economic, health and social harmony is measured in the health of its women. Let's bring hope, healing and dignity for all," said Dr Kadirov.
Dr Kadirov talks about UNFPA commitment
The Waberi Puntland Drama Group performed a play promoting skilled birth attendance, involvement of men and public awareness.
A poet, Mr. Jama also pleaded with the public to work on getting rid of harmful practices.
"May I ask all men to join in protecting our daughters from the evil practice of FGM and to make sure that wives are assisted by a skilled health worker when giving birth," pleaded Mr. Jama.
-----Jama Warsame
----------------------------------------------------------------
UNFPA inquiries: Please contact UNFPA Communications Specialist, Pilirani Semu-Banda; semu-banda@unfpa.org