Religious scholars in Puntland on 11 May 2017 approved the Somali language version of the book "Family Planning in the Legacy of Islam" and proceeded to develop behavior change communication (BCC) messages advocating for the uptake of birth spacing.
A group of 25 religious scholars gathered at the Ministry of Justice and Religious Affairs of Puntland in Garowe for four days to endorse the book, which will be utilised as a basis for a robust culturally sensitive communication campaign.
The Ministry of Health and the Ministry of Justice, Religious Affairs and Rehabilitation (MOJRAR) have been leading the review of the book in consultation with prominent religious and community leaders as well as reproductive health professionals and Somali youth.  The process has been conducted with financial support from the Government of Japan through UNFPA.
The BCC messages are tailored to various target audiences including women, men, and political and religious leaders. The process of endorsement and development of messages consisted of a four-day seminar to review the book and a workshop on development of behavior change communication messages based on the book.
Speaking at the start of the events, the director general of the Ministry of Justice and Religious Affairs Mr. Mohamed Ali urged the religious scholars to give due diligence to the review of the contents of book and to produce quality messages that can contribute to improving people's understanding of the correct Islamic view on birth spacing.
UNFPA Garowe head of office Dr. Bakhtior Kadirov emphasized the importance of approaching behavior change interventions on birth spacing from the Islamic perspective to ensure acceptance.
The book addresses the various issues of family formation, the rights and obligations of parents and children, birth spacing, fertility regulation, clarifying and updating teachings and opinions while dispelling misconceptions and misunderstandings. It considers how the Qur'an and the Sunnah; the Prophet's tradition, deal with the concept of family planning," said Dr. Kadirov.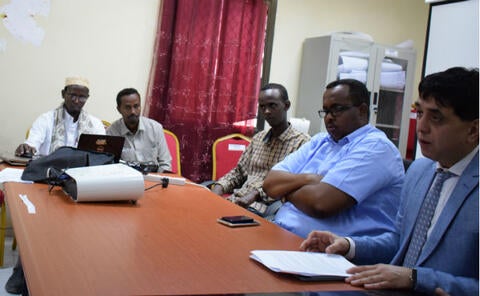 Sheikh Mohamed Omar, who led the translation work and facilitated the seminar and workshop, talked about how the book combines the wide views of Islamic jurisprudence regarding key family issues such as marriage, birth spacing and contraception. He spoke about the importance of clarifying to the people the issues related to what Islam accepts regarding birth spacing and family planning and of distinguishing genuine religious teachings from cultural myths and misconceptions.
---- Abdisalam Bahwal
----------------------------------------------------------------
UNFPA inquiries: Please contact UNFPA Communications Specialist, Pilirani Semu-Banda; semu-banda@unfpa.org