Ms. Amina Mohamed Dhurow is a member of the National Disability Council and the Somalia Association of Female Disability chairperson. She is currently leading a campaign dubbed "Mask Up Vulnerable".  
"As the COVID-19 pandemic situation worsens, we have launched the campaign to contain the spread of the pandemic. We are very proud to start this unique campaign, giving vulnerable communities one of the basic protection materials against the virus. We are producing and distributing reusable face masks for disabled and displaced people," explains Ms. Dhurow. 
The campaign is being fostered through Dalbile Youth Initiative. The European Union-funded project is a socio-economic initiative that empowers Somali youth with skills and resources to unlock their full potentials. The project receives technical support from UNFPA Somalia.
Dalbile Youth Initiative funds social impact ideas. The team of young people living with disabilities were the beneficiaries of one of the social impact youth fund. The project provided the resources to equip and train young people with tailoring and sewing machines required in making face masks.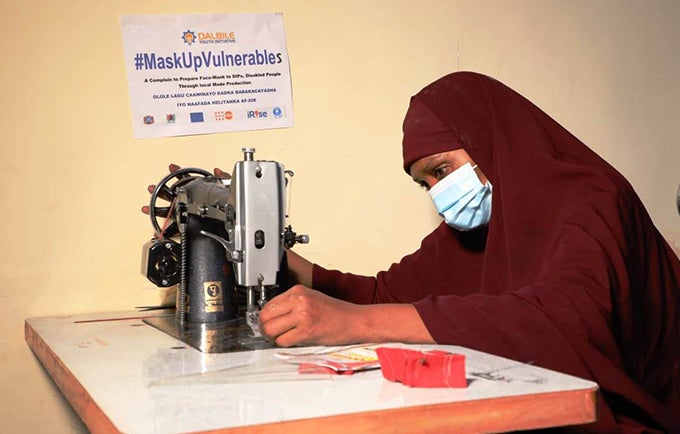 production of face masks
"The first phase of the project produced a total of 3000 pieces of face masks. These were distributed to vulnerable communities in two camps for people living with disabilities, one school and at a camp for internally displaced persons," explains Ms. Dhurow.
The campaign has now gone into phase two. The young people living with disabilities are producing even a larger quantity of reusable, locally made face masks to reach more people among the vulnerable communities.
"The three decades of instability in Somalia has left many scars of war and increased the number of people living with disabilities in the country. They are vulnerable and often overlooked," says UNFPA Somalia Programme Coordinator for Youth and innovation Ms. Fatuma Kuno Muhumed.
She says UNFPA supports the Dalbile Youth Initiative to make the young people living with disabilities a priority. "The group empowered so far bears testimony that young people living with disabilities have a great potential and must be included in all spheres of development," says Ms. Muhumed.
COVID-19 hit Somalia in early 2020, the same as the neighbouring countries. The World Health Organisation (WHO) indicates that there have since been 14,368 confirmed cases of COVID-19 with 745 deaths as of 6 May 2021.
Somalia has, over the past year, adopted some preventive measures, including locking down the country airports at times, allowing civil servants to work from home, closing down educational centres like schools and universities to minimize social gatherings, advising people to wear face masks and to observe social distances in the public places. Most people did not follow the prescribed measures due to cultural misconceptions and economic statuses.
COVID-19 continues to rear its ugly head, and the need for face masks is growing.
                                                                                                                                                                                                                                                                 ---Pilirani Semu-Banda