Galkayo is a divided city: the north is under the control of Puntland State, while the south is under control of Galmudug State. This is due to an inter-clan conflict that has had a devastating impact on people's lives. Youth have been disproportionately affected by the conflict, as they were both victims and agents in the war. However, for the past three years, Galkayo has enjoyed relative peace, bringing stability and economic growth to the city, youth having played a significant role in this venture.
In Somalia, over 75 percent of the population is under 35 years of age, according to the most recent Population estimation Survey in 2014. At the same time, there is a lack of adequate resources to cover young people's needs, including food, water and other critical social amenities. This is coupled with high unemployment rates among young people, making these issues key impediments to young people's advancement. A combination of nearly three decades of conflict and political unrest, in addition to war and natural catastrophes, have made young people in Somalia face various impediments, including significant displacements within and outside of the country.
UN Security Council has highlighted, through resolutions 2250, 2419, and 2535, the critical role that young people can play in conflict prevention, conflict resolution, peacebuilding, and sustaining peace, as well as the importance of facilitating youth participation and leadership in these areas, and promoting youth participation spaces. UNFPA supports young people in Somalia to have equal opportunities to develop their full potential and contribute to their communities. Young people are the core of UNFPA's mission.
Building peaceful, cohesive, and resilient societies requires the full and meaningful participation of young people. Investing in them in ways that build their capabilities and create opportunities that will enable them to realize their full potential in life is a prerequisite for their engagement in civic affairs.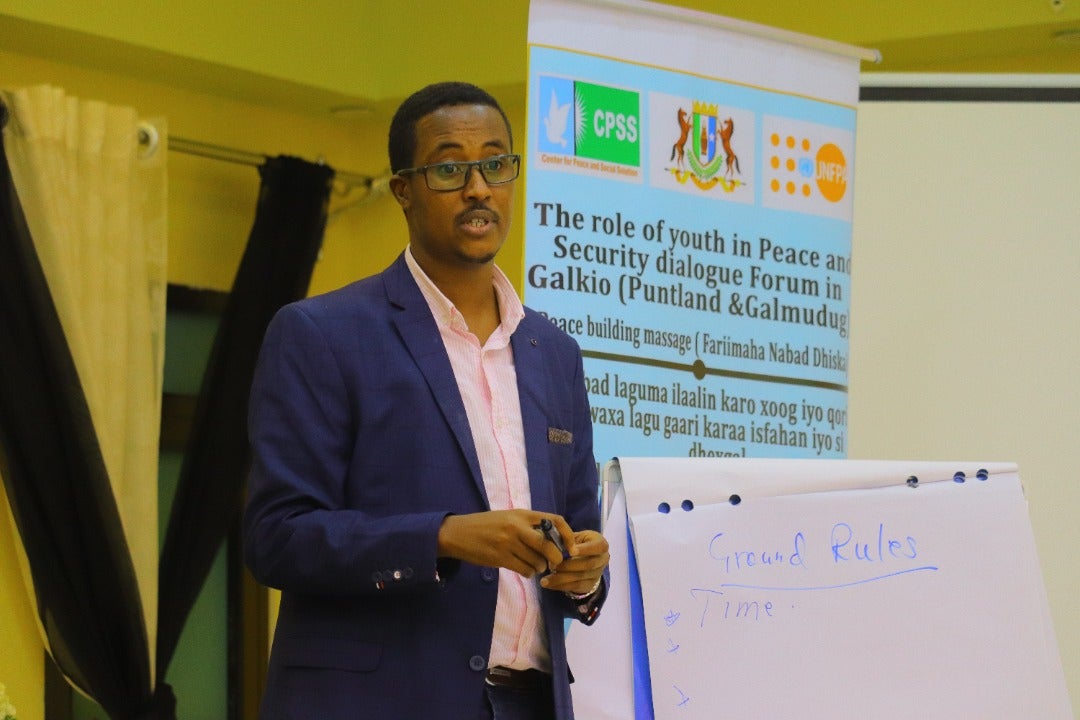 UNFPA Somalia was among the first humanitarian and development actors that started engaging young people in the efforts to create stability. Recently, UNFPA, together with the Ministry of Labor, Ministry of Youth and Sports, and Center for Peace and Social Solution (CPSS), joined forces to organize the role of youth in peacebuilding processes and security in Galkacyo.
The objective of the collaboration was to improve youth participation in peacebuilding process through an integrative and capacity-building youth forum. More specifically, the forum aimed to build a joint vision for Puntland and Galmudug youth as positive agents of change in the community; enable civil society youth groups to acquire basic knowledge of the Youth for Peace and Security Agenda (YPS Agenda) to effectively engage and lead the national peacebuilding and security processes; and create an inclusive open forum to empower youth groups to discuss peacebuilding and security. The forum brought together youth from both the north and south of Galkayo, peace champions, senior government officials, such as international and local organizations, the Mayor of Galkayo, various authors on peace issues, and other key stakeholders.
Peace and security are more than just the absence of violence: conflicts lower morale, weaken the solidarity of the people, and cause social disorder, chaos, and confusion. Peace for young people is also deeply personal, associated with well-being and happiness. During the forum, the young people stressed the importance of addressing the symptoms of violence and the underlying causes of corruption, inequality, and social injustice.
Farah Mumin is a 23 year-old peace champion. She has attended various peacebuilding efforts meetings, workshops, awareness campaigns, and events in Galkaayo, mostly related to the role of youth in peace and security and conflict transformation. She has trained and engaged with Galkayo youth, from both the north and south, on peacebuilding and conflict prevention over the last four years. During the forum, Farah facilitated a session on how young people have contributed and continue to contribute to Galkayo peace building forums, and how positive engagement of young people can transform societies to the better. According to her, "peace comes from being able to contribute with we have and with who we are toward creating a world that supports everyone, but it is also about securing the space for others to contribute with what they have and with what they are.".