Each and every day midwives make a significant change to the lives of people. The International Day of the Midwife which is held every year on 5th May 2014 was celebrated by UNFPA Somalia which greatly supports the midwifery profession in the 3 zones of the country. The International Confederation of Midwives (ICM) theme this year was "Midwives changing the world one family at a time" resonated by the overarching theme "The world needs midwives now more than ever".
In Puntland the day was jointly organized by the Ministry of Health, the Puntland Association of Midwives and UNFPA. Its worthy of note that 65 midwifery students have graduated since 2012 and more than 40 midwives have received refresher trainings with support from UNFPA. This year, another 55 midwifery students are expected to graduate and will further improve health services delivery for mothers and babies.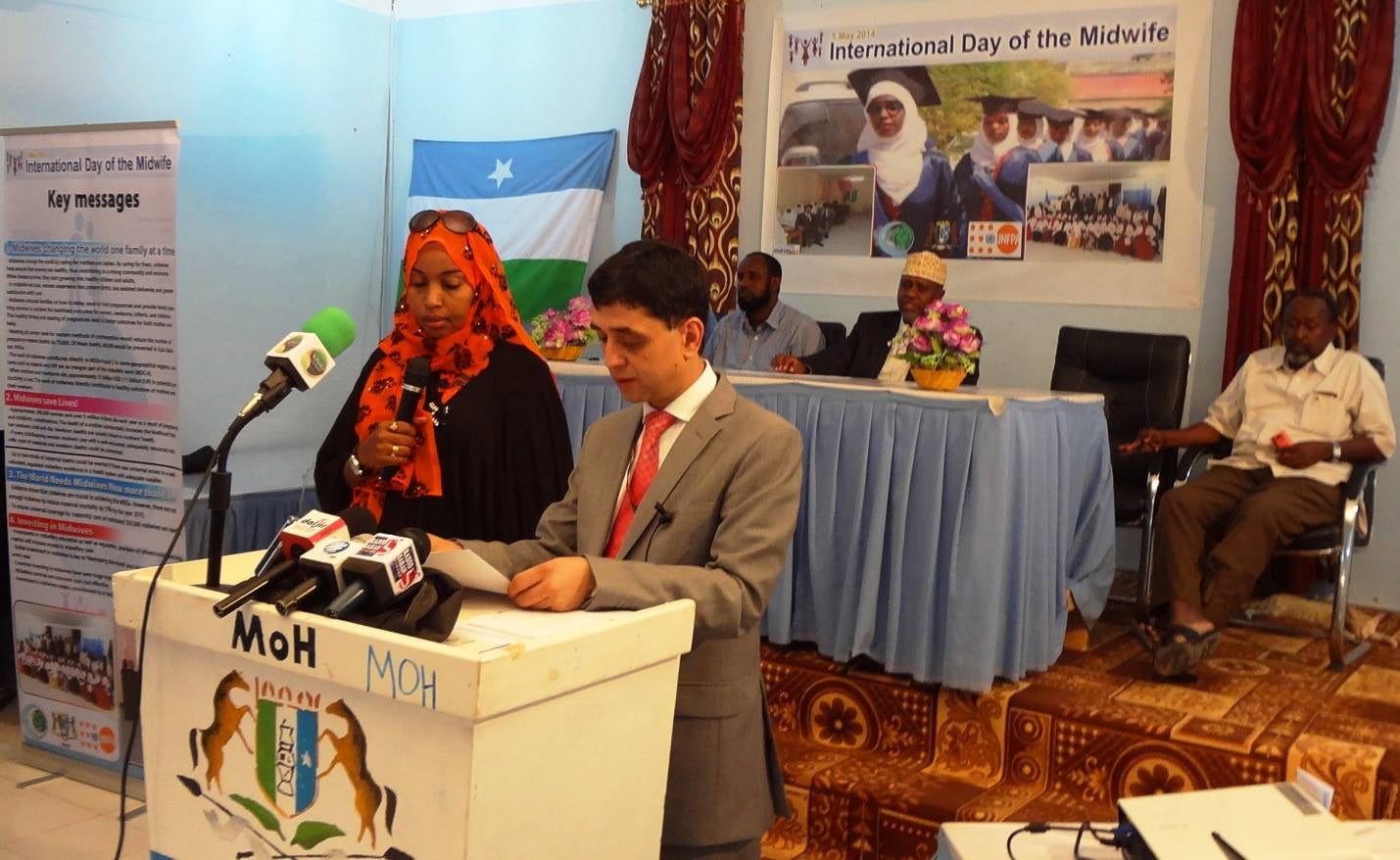 In Mogadishu the celebrations which were held in Villa Sultan were attended by dignitaries of the government of Somalia who included the Minister of Women and Human Right Development Hon. Khadija, the acting Director General, UN agencies, NGOs, civil societies, Women Associations, Midwifery and Medical associations, Midwives and other partners. The day was marked by a series of colorful events focused on the creation of awareness on the important role of midwives in changing Somalia one family at a time. One speaker after the other appreciated UNFPA Somalia for its great efforts in investing in Midwifery Education and ensuring that mortality rate is highly reduced.
In Somaliland the celebrations were honored by the presence of the Vice Minister of Health, Mrs. Nimo Hussein Qawdan, The Director General of MOH, Executive Director of National Professions Health Council, Chairperson and ED of Somaliland Nursing and Midwifery Association (SLNMA) among other reproductive health partners and Midwifery Institutions. "Somaliland needs more and more midwives and other cadres of health professionals to avert the high maternal and neonatal mortality rate and to improve health service delivery" were the remarks by Mrs. Nimo.