UNFPA supported a football tournament in Puntland on 10th June 2014 at the Mire Aware Stadium in Garowe. The tournament which was organized by the Ministry of Labour, Youth and Sports was devoted to MDGs, Post 2015 Development Agenda and ICPD Beyond 2014. Teams from the regions of Nugaal, Haylan, Bari, Sanaag, Mudug, Karkaar ,Sool, Halyan and Ayn Participated. Thousands of soccer fans flocked the stadium in support of their teams.
he opening ceremony was attended by high level dignitaries from the government among them the Cabinet Ministers, Deputy Ministers, Members of Parliament, representatives from youth organizations and the media. The Vice President of Puntland, Mr.Abdihakim Haji Amay expressed his sincere appreciation to UNFPA for its great efforts in curbing issues affecting the young people like risky behaviors, illegal migration and other vulnerabilities.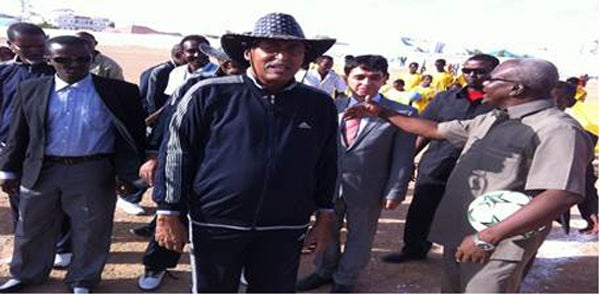 Young people have opportunities to influence the future of population and development policy at different levels said Dr. Bakhtior Head of UNFPA Garowe field office. He noted that the ongoing deliberations and reviews related to Post 2015 Development Agenda and ICPD Beyond 2014 provide a good chance to define what needs to be done to deliver a more equal and sustainable world of 7 billion people. He emphasized on the main aim of the tournament which is to promote the role of young people as agents of change, empower women and girls, promote reproductive health and rights, address urbanization and migration, contribute to environmental sustainability and migration and to address poverty and inequality.