Office of the Resident and Humanitarian Coordinator for Somalia
STATEMENT BY THE UNFPA REPRESENTATIVE, NIKOLAI BOTEV, ON BEHALF OF THE HUMANITARIAN COORDINATOR ON THE     DROUGHTOPERATIONS COORDINATION CENTRE IN GAROWE
30th March, 2017
Vice President, Your Excellences, Ambassador, humanitarian partners,
On behalf of the Humanitarian Coordinator for Somalia Mr. Peter de Clercq and the Humanitarian Country Team of United Nations agencies, NGOs and donors, I thank you all for joining us for this launch of the Drought Operations Coordination Center in Garowe.
The humanitarian situation in Puntland continues to be of great concern, with rising numbers of displacement, disease outbreaks, malnutrition and food insecurity.
As part of scaling up delivery of assistance and protection in Somalia, the Humanitarian Coordinator has decided to create Drought Operations Emergency Coordination Centers (DOCC) in a number of strategic areas, including Garowe.
The purpose in setting up the Centre here is to strengthen coherence in response through cluster teams coming together physically but also in their planning, response, monitoring of performance, and building synergies, for example in using enablers together, including logistics and security arrangements.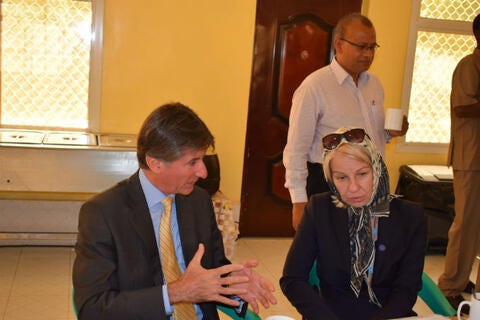 The Humanitarian Coordinator and the Humanitarian Country Team expects the mechanism to provide a faster, more effective and more predictable humanitarian response through well-defined operational response arrangements. The mechanism will also ensure that the reporting, communications and public information take place in real time and verifications of data is made easier. This will promote visibility and clarify gaps in delivery.
While this mechanism is essential in ensuring that the international humanitarian community steps up quickly and in a coherent and measurable way, the ultimate objective is for the government to take leadership, and the HC and his team to gradually play a supportive role.
In addition to this DOCC in Garowe, one has been set up in Mogadishu, and another in Baidoa and we are already seeing good results from partners coming together and working more closely to address the worsening situation.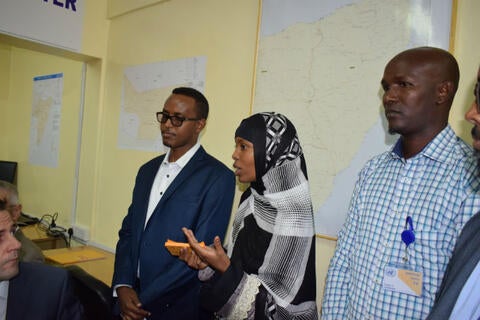 We are encouraged that the government continues to take action to ensure an enabling environment that facilitates aid delivery and we see the DOCC as an important enabler in this regard as well.
Donors, including Finland, have been generous in support of humanitarian action and we count on the international community to continue providing support for the people in need in Puntland with timely and predictable funding in 2017. Humanitarian partners remain committed to ensuring that the DOCC and the partners working here make a difference in reducing overall humanitarian needs and building the resilience of the people in Puntland. 
Thank you very much.