The girl child was the center of discussions and debate at a joint initiative organized by UNFPA in collaboration with the Embassy of Sweden on 26 May 2017. The event was attended by close to 40 participants including donors, local NGOs and UN agencies.
The discussion was co-led by the chairperson of the Human Rights, Gender Equality and Humanitarian Committee in the Parliament of the Federal Government of Somalia Honourable Member of Parliament Saga Bihi and Swedish Ambassador to Somalia Mr. Mikael Lindvall. It was facilitated by Dr. Barni Nor from the Embassy of Sweden.
Honourable Bihi told the gathering that the Somali girl child continues to face major challenges with sexual reproductive health, Gender Based Violence (GBV) particularly sexual violence, Female Genital Mutilation (FGM) and child marriages.
"Girls in Somalia don't have many options and therefore opt for marriage as an alternative.  We must give girls a positive incentive to enable them make choices and bold decisions," said Honourable Bihi.
Honourable Bihi and the Swedish Ambassador to Somalia
Speaking at the beginning of the discussions Mr. Lindvall said that the joint efforts by government, donors, civil society organisations and UN agencies, in protecting and promoting the Somali girl child, have to be strengthened if a difference is to be made.
"We have to work together more strategically and more coordinated towards this common agenda," said Mr. Lindvall.
Participants at the Brown Bag event spoke of the importance of creating more choices and opportunities for girls, seeking strong partnerships and alliances with men and religious groups and the importance of local-level and Somali-led advocacy campaigns on the girl child in order to change the negative narrative.
The participants also discussed that male ambassadors for gender equality in Somalia are critical in protecting and serving the Somali girl child.  They agreed to come up with a concrete and realistic action plan to ensure that a real difference is made in the life of the girl child and that core to this work is the National Development Plan and the Ministry of Women and Human Rights.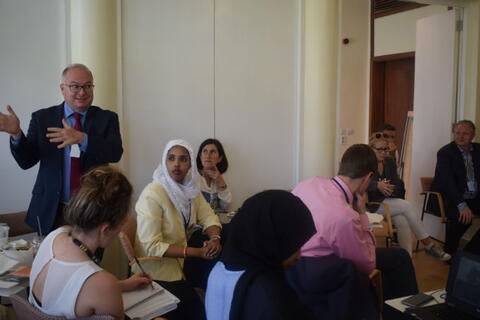 Part of the discussions about the girl child
UNFPA Somalia Gender Advisor Ms. Isatu Sesay-Bayoh spoke of the need for urgency to address the root causes depriving the girl child's development.
"We all need to investing more on GBV prevention and mitigation with community-led innovation. These efforts could be cost effective than waiting to respond," said Ms. Sesay-Bayoh.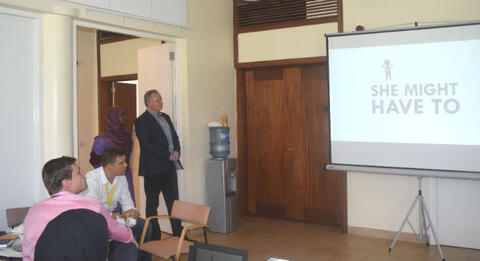 Participants watch a video about the girl child
Somalia has an estimated 1.5 million girls between the ages of 10-19 years. FGM prevalence in Somalia is among the highest in the world at an estimated 98 percent. Child marriage is a culturally accepted harmful practice. Somalia has a high total fertility rate (TFR) at 6.7 and a low contraceptive prevalence rate (CPR) of 15 percent. Among the adolescents 15-19 years, 20.8 percent have an unmet need for contraceptives. Thirteen percent of the total adolescent population has ever married. Among those that have ever married, 69 percent are girls.
The Somali girl child lacks sexuality education with cultural barriers hampering comprehensive sexual and reproductive health education, is faced with teenage pregnancies in and out of marriage together with its health and economic development implications. An estimated 18 percent among the adolescent girls have ever married. These married adolescent girls are exposed to the adverse effects of pregnancy and birth related complications given the low contraceptive prevalence rate, low uptake of antenatal care, inadequate demand and supply of health facilities.
---------------------------------------------------------------
UNFPA inquiries: Please contact UNFPA Communications Specialist, Pilirani Semu-Banda; semu-banda@unfpa.org