Asturakaaba Fashion Designs is a tailor enterprise in Somaliland that designs and makes women's clothes, but business slowed for the clothes company following the COVID-19 pandemic which is disrupting the world, with a toll on human lives and economic activities.
But rescue was in sight for Asturakaaba through the Socio-Economic Empowerment of Youth in Somaliland Project funded by the European Union (EU) and receives technical support from UNFPA Somalia.
The entrepreneurs enrolled in the project and diversified to making face masks for essential workers and corporations. Masks are a key measure to suppress transmission and save lives and can be used for either protection of healthy persons or to prevent onward transmission.
Other young people have also started innovative programmes including greenhouse production of different crops and fruits, media production, furniture production, beauty salons, retail shops and many other through the EU-funded project.  
Up to 200 young people have since 1 October 2020 benefited from the project which aims to build peace and contribute to stability in Somalia by improving opportunities for youth to engage in peace-building, skills development, income-generation, entrepreneurship, sports and culture. The initiative also ensures that youth have access to safe spaces to realize their full potential as productive and independent agents of positive change in Somalia.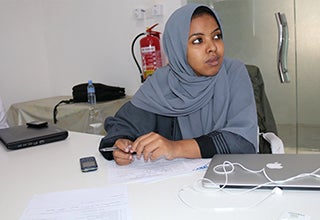 one of the young people benefiting from the project
Local NGOs that create innovative and long-lasting solutions to Somaliland's youth challenges, Shaqodoon and Harhub, are implementing the programme.
"Shaqodoon provided core life skills training for 100 youth in four groups. We also implemented some of the activities with Harhub as a partner organization to execute four boot camps for 100 youth. These young people were also trained, mentored and coached for a chance to get their ideas financed with nine startups who successfully receive grants, said Ms. Khadra Ali, Shaqodoon's Organizational and Business Development Manager.
According to Ms. Ali, Harhub was founded in late 2018 with the mission to support early-stage startups to grow and expand through the provision of unique services. The hub is Hargeisa's first innovation platform, co-working space with tech-loaded events, and meeting space where entrepreneurial spirit, creativity, drive, and passion come alive. Shaqodoon founded Harhub after noticing the need for intentionally built space for entrepreneurs.
Shaqodoon also partnered with the Ministry of Employment, Social Affairs and Family to provide a grant for a youth-led organization to provide the capacity injection and enhance specific challenges in their communities that would lead to employment and well-being of youth.
"The approach by Shaqodoon towards the implementation of the program was successful as it made an impact that led to livelihood enhancement, job creation and broad-based inclusive growth," said  Ms. Ali.
The Dalbile youth fund provides grants to youth start-ups after going through boot camp for ideation and extensive mentorship and coaching that help them shape their ideas into investable ventures. The funds are particularly targeted and are important for youth startups that would otherwise not qualify for loans from credit facilities.
Globally, UNFPA partners with young people, helping them participate in decisions affecting them, and strengthening their ability to advance human rights and development issues such as health, education and employment.
"The demographics of the Somali youth is huge, the investment for the young women and men will go a long way in solving their problems," said Ms. Fatuma Kuno Muhumed UNFPA Somalia Programme Officer for Youth and Innovation.