UNFPA Somalia continues to scale up efforts in ensuring that no woman or new-born dies during birth and protecting women and girls from gender-based violence (GBV) even in the current drought situation ravaging Somalia.
Of the 6.2 million people affected by the drought, more than 1.5 million are women of childbearing age. UNFPA is particularly concerned about the fate of 607,000 pregnant women across the country who need maternal health services to ensure a safe pregnancy and delivery, including emergency obstetric services. To help address their needs, UNFPA is scaling up its emergency response to help more than 130,000 pregnant women who may require urgent care.
The UNFPA Hargeisa Office has been working with the Somaliland Nursing and Midwifery Association (SLNMA) and Borama Regional Hospital to contribute to the humanitarian response in the Borama and Awdal regions by scaling up activities aimed at serving pregnant women affected by the drought. The response commenced of June 6, 2017 according to Dr. Layla Mohammed Hashi, UNFPA Somalia behavioral change communication and family planning analyst for Hargeisa office.
"I was happy to witness a safe birth in the maternity wing of Borama General Hospital after a woman who was affected by the drought was brought to the hospital for a ceasarian section. She was facing complications when she went into labour while in her village," said Dr. Hashi.
She explained that Hodan Abdi Osman, 19, safely delivered her second baby in the hospital following the emergency response, she accessed which included availability of an ambulance within the drought-affected area.
"The lives of many Somali mothers are cut short as a result of prolonged labour due to lack of access to life saving services. Many others develop complications such as obstetric fistula. UNFPA is working with partners and government to ensure that we provide Comprehensive Emergency Obstetric and Newborn Care (CEmONC) services to women that need the care," said Hashi.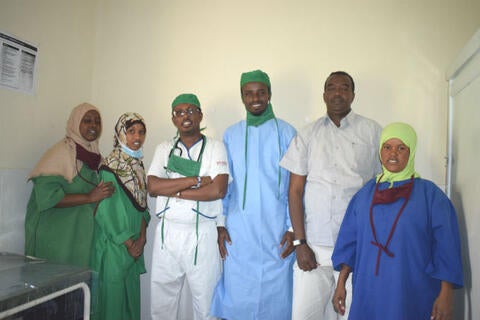 health experts working to respond to the drought situation
Dr. Salah Haji, who provided the emergency maternity care to Hodan and performed the ceasarian section said she came at the right time to the hospital where she accessed the life-saving care.
"We are grateful to UNFPA for providing an ambulance which helped in the referral of Hodan to Borama Regional Hospital. Transportation is very critical in saving the lives of pregnant mothers because every minute counts," said Dr. Haji.
Dr. Salah explained that more than 40 percent of maternal and newborn deaths and stillbirths occur on the day of birth and that this is why it is very important to strengthen the referral pathways to hospitals.
Another health specialist in Borama Dr. Safa Aden explained that there are many young Somali mothers who are at risk of birth complications and that the drought is making the situation even worse.
"Hodan had already had complications giving birth to her first born and she couldn't have managed to give birth naturally to the second baby. Hodan was not mature enough to deliver naturally with her first baby," said Dr. Aden.
Teen mothers have the poorest physical health and they may neglect their physical health while caring for their babies, according to Dr. Aden. "This is what happened to Hodan," he said.
Somalia already has one of the highest maternal mortality rates in the world, with over nearly 1 of every 22 mothers dying from pregnancy related causes. More than 350 000 Somalis are refugees and a further 400 000 are internally displaced.
UNFPA provides life-saving reproductive health services across Somalia including referral of complicated cases during pregnancy and delivery, emergency reproductive health kits and medical and psychosocial support to survivors of gender-based violence.
----------------------------------------------------------------
UNFPA inquiries: Please contact UNFPA Communications Specialist, Pilirani Semu-Banda; semu-banda@unfpa.org