GAROWE, Puntland – The President of Puntland State of Somalia, Dr. Abdiweli Ali Gaas on July 4 commended UNFPA for being a reliable partner in the quest to improve reproductive health and rights for Somali people.
Dr. Gaas made the remarks when he held a special meeting with UNFPA staff in Garowe to bid farewell to the head of the Puntland sub-office Dr. Bakhtior Kadirov who has since been reallocated to UNFPA Pakistan.
The President said he valued Dr. Kadirov's services as the head of the Puntland sub-office where he served for more than 5 years. Dr. Gaas presented a certificate of appreciation to Dr. Kadirov and wished him the best in his new assignment.
"I would like to underscore the commendable partnership and collaboration between UNFPA and the Puntland government. This partnership has led to strengthening institutional capacities and nurturing national ownership of UNFPA's programmes," said Dr. Gaas.
Dr. Bakhtior Kadirov thanked the Government of Puntland State of Somalia, national stakeholders, particularly Somali communities in Puntland for their support towards UNFPA's programmes.
"Somalia, and especially the people of Puntland, will always remain in my heart and mind," said Dr. Kadirov.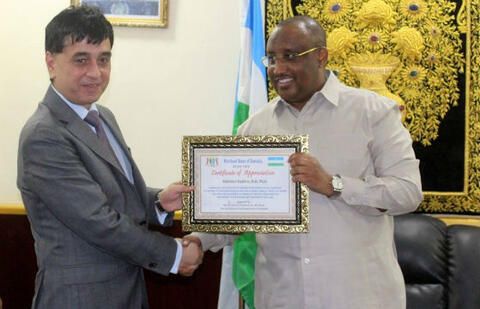 Puntland president hands over the award to Dr. Kadirov
He briefed the President on the latest programme progress and developments in UNFPA Somalia's work and these include the Puntland Forensic Center (PFC) which is part of medico-legal response to gender based violence (GBV), transfer of laboratory equipment from Bossaso for PFC's chemistry, physical and trace evidence sections which was a contribution from Minnesota which is Bossaso's twin city, innovative youth SRH programme, CEmONC services and Somali Health and Demographic Survey. 
Dr. Bakhtior Kadirov thanked the Government of Puntland State of Somalia, all national stakeholders, particularly communities for all their support during his tenure. "Somalia, the people of Puntland, communities and beneficiaries will always remain in my heart and mind as Somalia has become like homeland" said Dr. Bakhtior Kadirov.
In the month of July, national counterparts in Puntland held back-to-back special events and meetings to bid farewell to Dr. Kadirov. Minister of Health of Puntland State Dr. Abdinasir Osman Isse expressed his sadness that a visionary and dedicated UN head of field office was leaving Puntland and thanked Dr. Kadirov for his outstanding leadership that led to the improvement of maternal and child health in the Puntland State of Somalia.
And during the World Population Day on 11 July, the Ministry of Planning and International Cooperation Mr. Shire Haji Farah also held a farewell ceremony for Dr. Kadirov which was followed by another one by Ms. Mariam Ahmed Ali, the Minister of Women Development and Family Affairs.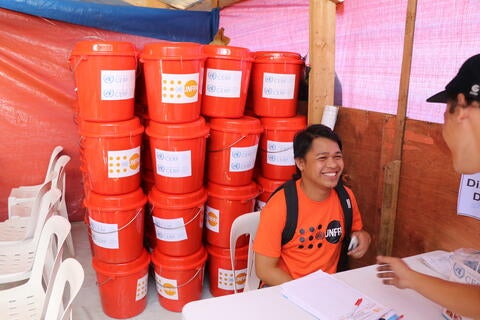 Garowe staff saying goodbye to Dr. Kadirov
Executive Director of the Puntland Y-Peer Network, Mr. Abdiwali Ali Abdulle also expressed his appreciation on the excellent partnership between UNFPA Garowe sub-office and Puntland Y-Peer network under the leadership of Dr. Kadirov.       
 
Staff at the UN offices in Garowe also sent off Dr. Kadirov with Somalia traditional ornaments and souvenirs.
"You have always been a pillar of support and it is indeed sad to see you go. I know you built a good team here and that you will continue making your mark in UNFPA and UN as whole," said Mr. Amilcar Herbert, an officer at the UN Department of Safety and Security.
 UNFPA staff also appreciated Dr. Kadirov's leadership and commended him for building team spirit and team work ethics asserting that Dr. Bakhtior is a strong and genuine leader.
– Jihan Salad and Bahsan Said