UNFPA Somalia is forging a relationship with Linköping University (LiU) in Sweden in the quest to promote innovations for reproductive health and rights for Somali youth. The innovations are on mobile learning and aimed at creating opportunities for learning and knowledge production on reproductive health including menstrual hygiene.
LiU is one of the large academic institutions in Sweden and Northern Europe and conducts world-leading, boundary-crossing research in fields that include materials science, information technology and hearing. The university also offers many innovative educational programmes, frequently with a clear professional focus and leading to qualification as, for example, doctors, teachers, economists and engineers.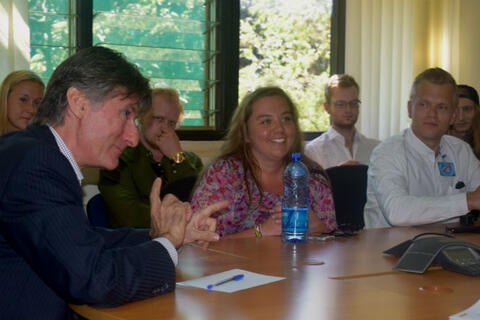 Interaction between UNFPA and Linköping students
Twenty-one students from LiU visited UNFPA Somalia offices in Nairobi, Kenya on 26 May 2017 to discuss and explore the possibility of moving forward with the proposed innovations. The visit follows a conference on Urban Innovation for Sexual and Reproductive Health and Rights, which was conducted on 15th, and 16th February 2017 in Nairobi by LiU and another Swedish University of Borås in partnership with the United Nations Human Settlements Programme (UN-Habitat) and UNFPA. The conference showcased and stimulated debate on the contributions of youth actors on urban sexual health and education issues using mobile learning and its ability to improve menstrual hygiene management for women and girls.
UNFPA Somalia Representative Mr. Nikolai Botev informed the students that UNFPA is committed to working in Somalia to reinforce partnerships to deliver reproductive health information that can contribute to a demographic dividend. These include programmes for youth empowerment, improvements in maternal, newborn and child health, universal access to reproductive health, prevention and treatment of HIV and sexually transmitted infections and the elimination of gender-based violence and harmful practices such as Female Genital Mutilation (FGM) & child marriage.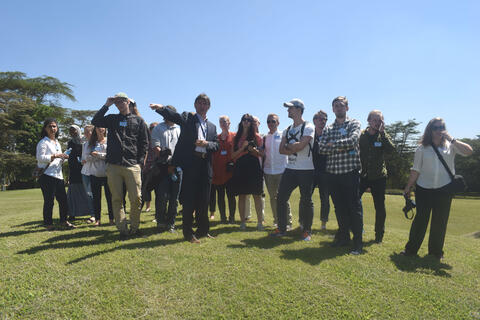 Discussing innovations
"We at UNFPA are pleased to be part of this innovative initiative because sexual and reproductive health and rights are at the heart of what we do. The rights and dignity of all people lie at the heart of development," said Mr. Botev.
Professor Per-Olof Hansson, who accompanied the students, said the LiU students work with new technologies and innovations, which they are eager to extend to Somalia.
UNFPA Somalia Programme Analyst for Youth and HIV Fatuma Muhumed said UNFPA is exploring the rolling out process of the project with local partners in Somalia.
---------------------------------------------------------------
UNFPA inquiries: Please contact UNFPA Communications Specialist, Pilirani Semu-Banda; semu-banda@unfpa.org