GAROWE, Puntland – The new President of Puntland State of Somalia, Mr. Said Abdullahi Deni on 30 January 2019 presented awards to UNFPA Somalia Representative Nikolai Botev and former First Lady for Puntland Dr. Hodan Said Isse for their outstanding leadership and commitment to the sustainable institutional development in Puntland. Dr. Isse is the UNFPA Goodwill Ambassador in Puntland for the Campaign for Accelerated Reduction of Maternal Mortality in Africa (CARMMA).
The awards were presented during the launch of the Somalia chapter of Women in Global Health (WGH); the first chapter to be established in Africa.  
Mr. Deni said UNFPA has contributed a lot towards ensuring that the health sector in Puntland is one of the most successful sectors, especially in service delivery.
"UNFPA is a very key player in the health sector here in Puntland. There are so many health facilities that UNFPA is providing support to and this is well appreciated and very commendable," said the Puntland president.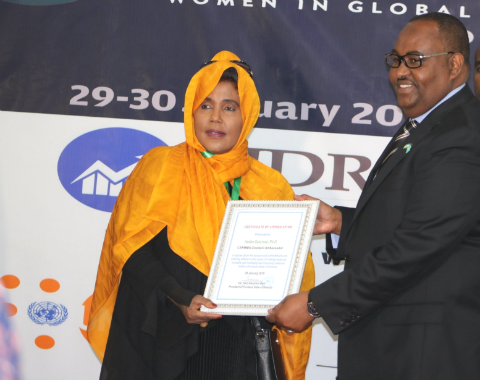 the First Lady receives her award
He said his government is dedicated to continuing working closely with the UN agency to ensure that the people of Puntland access all the health services they may need.
"I am committed to strengthening collaboration with UNFPA and hopefully we will improve the health sector even more as we continue to serve our people," said Mr. Deni.
The President also commended the former First Lady of Puntland for working with UNFPA to fight maternal and newborn mortality.
Head of Development Cooperation in the Somalia section of the Swedish Embassy Mr. Per Karlsson commended the Puntland government and UNFPA for their close collaboration in improving the health sector. He said Sweden's support to Somalia is part of a long-term commitment to addressing the health needs of the people and to re-build the health system in Somalia and that the collaboration between the government and UNFPA is facilitating successful results.
"Sweden is one of the major donors to Somalia through UNFPA and we are also supporting the advancement of gender equality. This is one of Sweden's highest priorities," said Mr. Karlsson.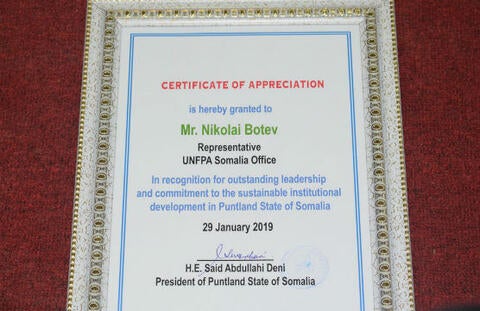 the certificate of appreciation to UNFPA Somalia Representative
The UNFPA Somalia Representative said UNFPA has had the privilege to collaborate with the government in Puntland in leading the maternal and newborn health programmes and programmes on fighting gender-based violence.
"We reaffirm our commitment to working with the government in Puntland with the assistance of our donors namely the governments of Sweden, Finland, Italy and Switzerland," said Mr. Botev.
He said Puntland has played a crucial role in the development of Somalia and cited innovative developments such as the first Puntland Forensic Center which is part of medico-legal response to gender based violence (GBV) and is supported by UNFPA, innovative youth reproductive health programmes and Somali Health and Demographic Survey. 
                                                                                                                                                                                                                                                                                  - Pilirani Semu-Banda