UNFPA Somalia with financial support from the People of Japan has enlisted 13 young health professionals and health promoters to serve in youth clinics and conduct community sensitization and education sessions through school clubs and outreach services in camps for Internally Displaced Persons (IDPs).
Working with the government in Somalia, the civil society, young people and youth-serving organizations, UNFPA Somalia is scaling up efforts to ensure reproductive health services and supportive programmes are available to young people who are marginalized or hard to reach. The 13 young health professionals went through a three-day training from July 31 to August 2 aimed at improving their knowledge in birth spacing and sexual and reproductive health (SRH) and to strengthen their capacity in providing SRH information and services to the youth and adolescent.
Reproductive health programme officer for UNFPA Somalia Masumi Maehara said the participants indicated that they particularly enjoyed group discussions on societal, religious, political and economic perspectives associated with SRH issues. She said counselling practices through role-plays also helped them utilize and communicate their clinical knowledge surrounding SRH in a youth friendly manner. 
"Topics covered during the training included physiology of men and women, birth spacing methods and counseling, gender based violence and how to provide SRH information to the youth. The training was participatory with different modes of engagement from lectures, group work, plenary discussions, role plays to question and answer sessions," said Ms. Maehara.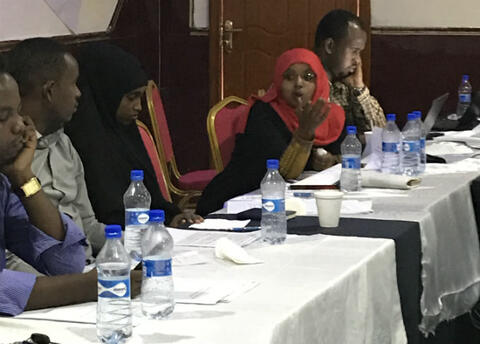 Discussions among the health professionals
The participants also took pre and post-tests to determine their improvement in knowledge before and after the training, with every one of them scoring higher in the post-test than the pre-test, according to Ms. Maehara.
"On the last day of the training the participants committed to starting working on outreach and school-based health talks to provide the right information on SRH and inform young people in Mogadishu about a youth clinic that will open within the month," said Maehara. 
UNFPA Somalia Deputy Representative Mr. Walter Mendonca-Filho said during the training that UNFPA would continue to scale up efforts to improve SRH knowledge for young people.
 "I see the importance of having fora where the youth can discuss SRH issues freely. I am happy that such conversations can happen in Somalia. UNFPA would like to offer more opportunities like these more often. But I also believe that the participants should go back and engage people in their families, communities and work environments to educate and discuss these important issues," said Mr. Mendonca-Filho.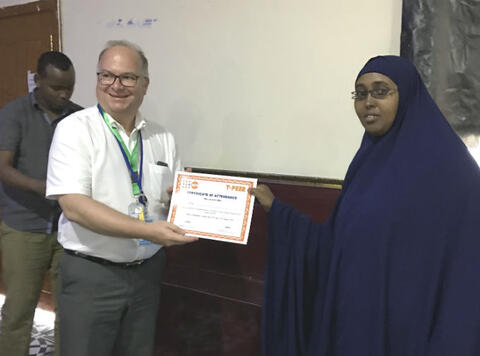 The Deputy Representative hands over a certificate to one of the health professionals
The Executive Director of Y-PEER Somalia Mr. Mohamed Arshad Ibrahim was appreciative to UNFPA Somalia and the Government of Japan for the opportunities offered to Somalia youth.
"I thank UNFPA for supporting this initiative where young people discuss and suggest ideas to promote SRH needs of young people. We make good use of such opportunities as certain topics are rarely talked about in our society but when we open debates for youth, they are able to share real life experiences even on what is deemed as sensitive subjects," said Mr. Ibrahim.
Young people have unique sexual and reproductive health needs as they physically and psychologically transition into adulthood and go through new life events, including marriage, pregnancy and starting a new family. Young people need right information regarding SRH and their reproductive rights; however, due to cultural and social circumstances and expectations and lack of youth-friendly space, they might not be able to discuss their SRH, access the right information or receive SRH services.
UNFPA Somalia supports youth and adolescent sexual and reproductive health (SRH) by providing SRH and GBV information and education, services to prevent, diagnose and treat SRH-related issues like sexually transmitted infections and counselling on birth spacing and empowering them to know and exercise their rights. In partnership with the Ministry of Health of the Federal Government of Somalia and the Youth Peer Education Network (Y-PEER) Somalia, UNFPA is opening a youth clinic within the Mogadishu One Stop Youth Centre to provide space where young people can receive SRH information and services freely. The initiative is with financial contribution from the Government of Japan.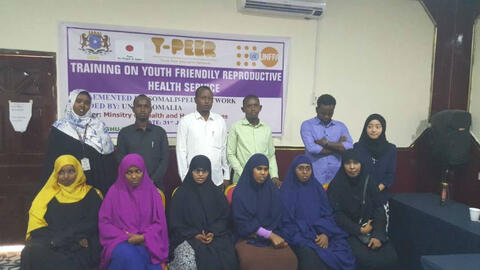 The health professionals and UNFPA staff at the end of the training
Somalia has some of the worst health indicators in the world. The maternal mortality rate in the country is among the highest in the world at 732 deaths per 100,000 live births and women in Somalia have one in 22 risk of dying during their reproductive years.
A number of reasons for the poor health indicators, especially the high maternal mortality and morbidity in Somalia include deep-rooted cultural beliefs and practices, lack of knowledge and information regarding sexual and reproductive health, lack of accessibility and availability of health services within the country, as well as political instability, inter-clan disputes and natural disasters. The health of women, adolescent girls and children are shown to be the most affected in the Somali context. Women and girls are disadvantaged through a number of structural discriminative and traditional practices, including child marriage, issues related to customary law, female genital mutilation (FGM) and limited access to education.
Due to the low utilization of modern contraceptive methods for birth spacing, on average, a Somali woman will have more than six children in her lifetime, a situation that exposes her to the risk of death from pregnancy related causes. Giving birth remains one of the greatest risks to women's lives.  When women become pregnant their chance of survival drops considerably due to the limited antenatal care (ANC), restricted medical supplies, poor health care availability and lack of functioning infrastructure. There is also low demand for deliveries assisted by skilled birth attendants.
UNFPA works towards ensuring that no woman and baby dies during birth and collaborates closely with Somali health authorities to deliver various interventions to save the lives of women and babies. Japan has been UNFPA's reliable partner in its quest to deliver a world where every pregnancy is wanted, every birth is safe and every young person's potential is fulfilled.
###
For more information, please contact:
Ms. Pilirani Semu-Banda, Communications Specialist, UNFPA Somalia, Tel: +254 734500439; semu-banda@unfpa.org