Rahma (not her real name) lived as a happily married woman with her family in the Togdheer region of Somaliland. When it was time for her to deliver her first child, she faced an obstructed labour, lasting for two days, under the supervision and care of a traditional birth attendant (TBA). The TBA failed to deliver the baby and Rahma was eventually brought to the UNFPA-supported Borama Fistula Hospital.
Despite finally accessing health services, Rahma lost her baby and was left with an obstetric fistula - a hole between her vagina and bladder - as a result of the difficult and prolonged labour. Rahma preferred to deliver her child with the assistance of a TBA, as she believed the experience of an old women could help her deliver safely.
For three years, Rahma suffered physical and social ramifications from the obstetric fistula before she learnt about the existence of Borama National Fistula Hospital in Awdal, the first fistula repair center in Somaliland. The hospital, which is funded by UNFPA, provides fistula repair services to women from all Somali-speaking regions in the horn of Africa.
Around 1.7 per cent of all women in Somaliland have reportedly experienced fistula symptoms.
Unfortunately, Rahma's story is not unique. Around 67 per cent of all women in Somaliland deliver at home, the vast majority suffering from obstetric fistula as a result. According to the latest Somaliland Health and Demographic Survey (SLHDS) report, around 1.7 per cent of all women in Somaliland have reportedly experienced fistula symptoms.
UNFPA is leading the Global Campaign to End Obstetric Fistula, aiming to prevent obstetric fistula, treat and provide rehabilitation and reintegration support to those who suffer from it, and advocate for evidence-based resource mobilization. UNFPA also supports the Somaliland government to train skilled birth attendants all across Somaliland.
________________
Hawa Hiifaw, 45
After a prolonged labour lasting for six days, Hawa Hiifaw Yarrow gave birth to her first child at the age of 15. Hawa is from Baladwayne in central Somalia, a place with very limited health services and essential midwifery competencies. Hawa did not receive the comprehensive care needed to deal with her complicated delivery, leading to the unfortunate death of her unborn child. Furthermore, and shortly after the delivery, Hawa developed fistula. As of 7 September 2021, that was 30 years ago.
Neither Hawa nor her family knew where to seek treatment for her condition and she ended up as a divorcee, living a life of shame and in isolation from her community.
A glimmer of hope emerged one day when a radio show presenter spoke of a hospital in Borama treating fistula patients. However, Hawa's family could not afford sending her all the way to Borama.
Hawa continued living a life in sorrow and isolation, until one day when she met a woman who had been treated for fistula at the hospital in Borama. The woman explained to Hawa that she does not need money to have the surgery and that transportation costs would be covered. So, on 7 September 2021, Hawa travelled to the hospital in Borama and had her surgery. More than two weeks later, the surgery is deemed a success and Hawa is healthy and free from a condition with which she lived for 30 years.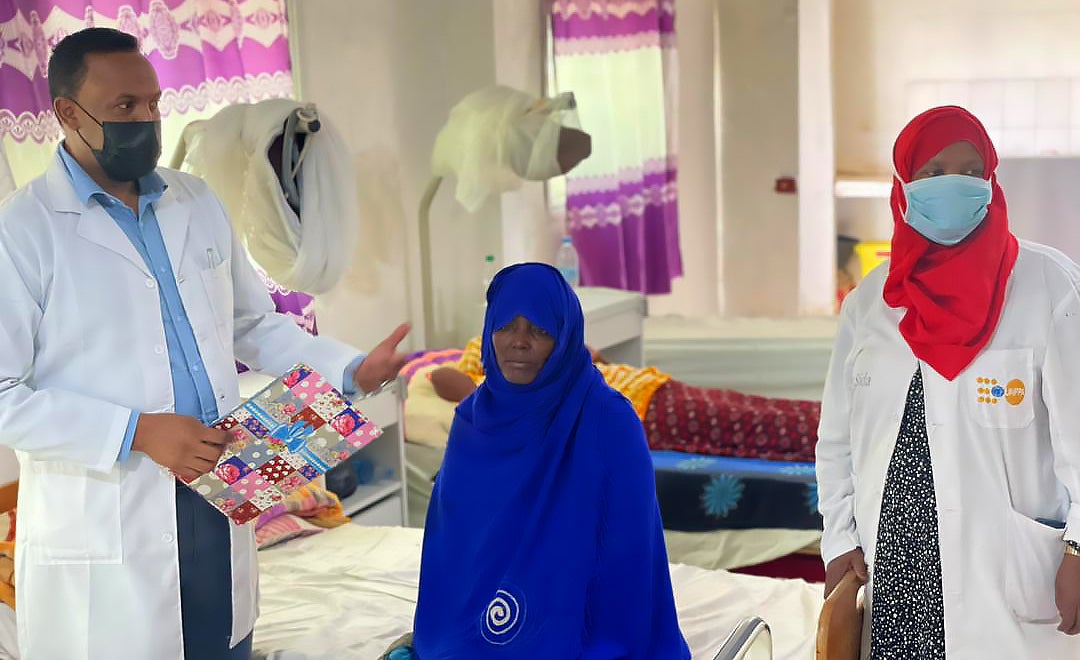 "This is a tremendously important and impactful campaign," said UNFPA Representative Anders Thomsen. "It is supporting women who have been suffering for decades: women who have been excluded from their community and their loved ones, due to a condition that can be easily repaired.
In Borama, I met with women who had come from all over Somalia to receive support at the Borama National Fistula Hospital. Together, we spoke about the importance of talking openly about fistula, since there may be women who do not know about the campaign, as well as those who are unaware that what they are suffering with can be treated. Overall, it was a very moving experience engaging in these conversations and witnessing the hospitality of Borama and Somaliland in general."