For more than 10 years, until last year, Khadra, 32, suffered a debilitating and devastating condition; obstetric fistula. Khadra lived with fistula complications and was isolated from her own community for over a decade as she was unable to access and afford treatment.
Now, one year after accessing fistula repair services, Khadra is a proud owner of a thriving shop selling different kinds of merchandise. She is determined to help other women and girls suffering the debilitating condition to access treatment.
Fistula is one of the most serious and tragic childbirth injuries. It is a hole between the birth canal and bladder or rectum caused by prolonged, obstructed labour, without access to timely, high-quality medical treatment. It leaves women leaking urine or faeces or both, and often leads to chronic medical problems, depression, social isolation and deepening poverty.  More than two million women still live with the condition, and 50,000 to 100,000 develop fistula every year.
The journey towards leading a normal life again, after suffering obstetric fistula, has not been easy for Khadra.
"I suffered a lot for over 10 years both physically and mentally. I could not control my urine. It was as if I was a small child. I smelled bad all the time. I can't even recall when my family members, friends and neighbors stopped visiting our home. It was such a long time ago," said Khadra.
She explained that she used to be an active and strong young woman who was full of life before she suffered obstretric fistula. Khadra said before she gave birth to her first child, she and her husband were working in a small shop owned by a family member. They were selling food items such as sugar, milk and flour at busy roadsides.
"We had a basic income to survive. I clearly remember how much I enjoyed working and contributing to the welfare of my family," said Khadra, adding: "unfortunately, things quickly changed when I gave birth to my first child. The delivery took place at home and was attended to by a traditional birth attendant. During labour and delivery, I felt an immense pain and I knew that something must have gone wrong. Although my child was born alive, I had suffered prolonged obstructed labour."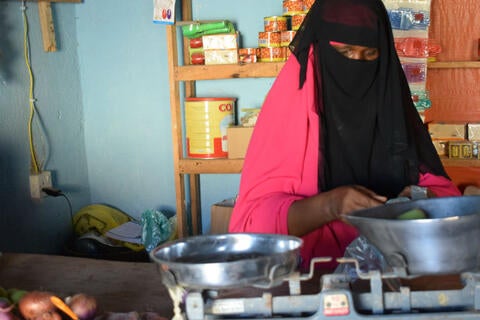 Khadra keeping busy in her grocery store
Khadra's family members advised her to go to the nearest hospital. Upon arrival, the specialist doctor did an assessment and found out that Khadra had experienced complications relating to obstetric fistula. "I had to undergo a surgical repair. Everything was fine until one year later when I gave birth to my second child," she explained.
Just like the first birth, Khadra delivered her second child at home. "The pain and complications after delivery were even worse than the first time. I was constantly in pain, leaking urine, and suffered from all sorts of infections," said Khadra.
Her husband saw her suffering and encouraged her to seek treatment.
"This time, I refused to go to the hospital as other family members could not permit me to spend more on medical treatment. We had borrowed money from family coffers for the first surgery. So for 10 years I ended up just hoping that the pain and complications would go away," said Khadra.            
Consequently, for over 10 years, Khadra lived with complications resulting from fistula.
"I was no longer the person I used to be. I had limited abilities to function effectively due to the horrible complications. Because I could no longer work, my husband started working longer hours, away from the family, to meet our needs," said Khadra.
She said her sister ended up moving in with her to help her cope and help with taking care of her children. "I am very thankful to my sister since she helped me go through a very difficult time," said Khadra.
She said she almost gave up all hope of healing until in 2016, when one day her husband returned from work to show her a text message he had received on his mobile phone. A telecom company in Puntland was sending text messages to all its mobile phone users informing them about a fistula repair campaign which was being carried out by an international humanitarian organisation, Physicians Across Continents (PAC), in collaboration with the Ministry of Health and UNFPA Somalia. The fistula repairs were being done free of charge.
Khadra decided to seize the opportunity. Her husband went to Garowe General Hospital to register her and she travelled to the hospital to undergo a medical assessment. "I remember vividly the first time we went to the hospital. It was so difficult for me to move out of the house and interact with people. But my husband encouraged me and I was determined to get healed," said Khadra.
The doctor who did the assessment confirmed that Khadra had been suffering from obstetric fistula and needed to undergo surgical repair as early as possible. "I was so nervous about the surgical procedure. Luckily, the surgery was a success. I stayed for two nights in the hospital for the recovery. I have been free from fistula and its complications ever since the surgery," she said happily.                   
Khadra is one of the 60 fistula survivours who successfully underwent fistula surgery during the fistula repair campaign held between 21 and 25 August, 2016 at the Garowe General Hospital in the Puntland State of Somalia.      
UNFPA Somalia, in collaboration with the Ministry of Health, embarked on a three-week intensive social and resource mobilization in support of the fistula campaign. The First Lady of Puntland State of Somalia, Dr. Hodan Said Isse, hosted a fundraising event in support of the fistula campaign therefore making more resources available for the campaign.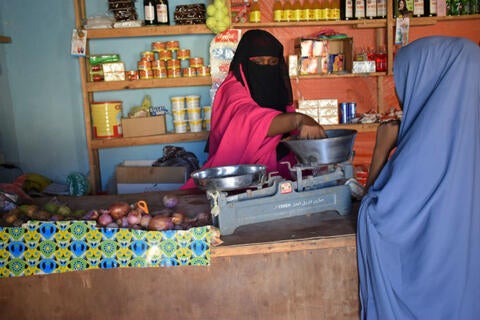 Khadra serving a customer   
A social reintegration aspect was embedded to the fistula campaign. Khadra was one of the 15 beneficiaries selected for a social reintegration programme. She received counseling services for one week on the fistula condition and its cause, healthy behaviour and social reintegration, including self-employment to enable social inclusion.
 "Although I was healed, I was still worried and feared that I would experience fistula again. It was surreal to get accustomed to the changes in my life. However I was assured through counselling that I was healed and would lead a normal life. I have now learnt a great deal about fistula and how to prevent it," said Khadra.
She explained that she was joyous when the Ministry of Health contacted and informed her about the social reintegration programme aimed at empowering fistula survivors economically. "I told the facilitators that I used to work in a shop and had the ambition to open my own shop. At the end of the programme, I received a financial incentive which enabled me to open my own grocery store," said Khadra.         
She said business is good and that the store is growing. "I am able to take care of my children together with my husband. I have even managed to support some family members who live in remote areas and were affected by the ongoing drought. I am happy, healthy and productive," said Khadra.
She has now taken it upon herself to be a campaigner on fistula prevention and treatment.
"Even in my own shop, I talk to the other women about fistula. I inform them about the cause of and what they could do if they would experience the condition. Ministry of Health officials visit me frequently to encourage me," said Khadra.
Ending fistula is a high priority for UNFPA, the United Nations Population Fund, and it is a key step on the road to achieving the world's Sustainable Development Goals by 2030. Working with partners in the Campaign to End Fistula, UNFPA, globally, has made progress towards eliminating fistula through prevention, treatment and social reintegration. UNFPA has supported more than 85,000 fistula repair surgeries since 2003, and more than 15,000 cases in 2016 alone.
So far, with the support of UNFPA Somalia, surgical repairs of 314 obstetric fistula cases have been performed in Garowe, Galkayo and Bossaso. In 2016 alone, UNFPA supported hospitals, which assisted 5824 safe deliveries and performed 956 caesarian sections. More than 80 health centers attended 28,503 childbirths.
 
*The real name of the fistula survivor has been changed for privacy purpose         
 - Jihan Salad
----------------------------------------------------------------
UNFPA inquiries: Please contact UNFPA Communications Specialist, Pilirani Semu-Banda; semu-banda@unfpa.org