UNFPA Somalia Youth Programme officer, Fatuma Muhumed, narrates her ordeal with Female Genital Mutilation (FGM)
I remember vividly that it was on a bright, sunny morning when my mother called me and calmly informed me that I would undergo circumcision the next day. She told me this in Somali which is my mother tongue; so I was to undergo "gudnin". I did not understand what this was really about, but I was excited and was looking forward to the circumcision day. I was only six years old.
All I knew was that all the popular girls in my village had undergone "gudnin" and of course I wanted to be part of the cool crew. So I was up very early the next morning and joined five other girls from my village,  in a ritual bath in a pond – this is the first step of the procedure. My hometown is Hulugho in Garissa on the border between Somalia and Kenya; female circumcision is very common here.
I was the first to undergo the "gudnin"; I later got to know that this was Female Genital Mutilation (FGM). I will never forget the excruciating pain I felt as I went through the procedure; there was no local anesthesia administered. Some circumcisers nowadays administer local anesthesia; a circumciser in Somaliland told UNFPA officers recently that she uses lidocaine as a local anesthetic that works by causing temporary numbness and loss of feeling in the skin and mucous membranes. 
In my case, the procedure was done amidst screams and struggles; thorns were inserted in my labia – apparently to enhance healing. Of course by that time, my excitement for "gudnin" had completely faded; I was tied up, not being able to urinate and very miserable. A hole had been dug in the house for us to use for urination but I did not even want to attempt it; I was in excruciating pain. Passing stool was out of question since I was not deliberately being fed normally so as to avoid disturbing the healing process of my private parts.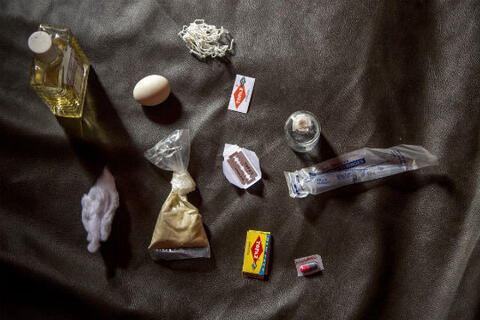 a circumciser's tools
Unfortunately, the worst was not over yet. My nastiest nightmare happened when the circumciser came  seven days after to check if the labia had healed but alas! it had not healed. This meant that the procedure would have to be repeated to make sure the labia was stuck together.
The women gathered to repeat the procedure. Being familiar with the pain I almost died with fright; my first instinct was to run away but I was tied up - my thighs were bound together. All I could do was  scream but no one paid attention to me and the women proceeded to carry out FGM on me again.
The initial thorns were removed and I continued fighting as I struggled to get free. My determination was so huge that at one point I overpowered the seven women holding me down and managed to slip away but they grabbed me back. This time around some of the women had to sit on my chest to contain me and they spread my legs open and tied each leg separately to a post with a rope. The circumcision process was repeated and this time around the thorns were inserted more closely and the pain I felt was even more intense; I must admit I have never felt so much pain again in my life.
To date I still don't understand how the circumcisers and my own dear mother, did not have compassion for me and were so convinced to go on with the procedure and to repeat it.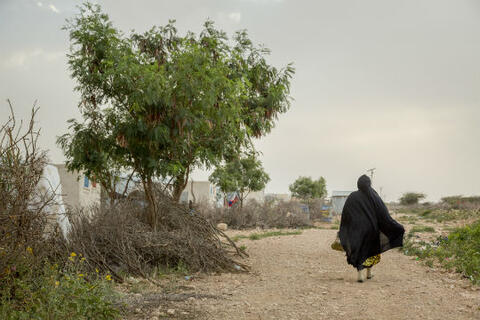 a circumciser after carrying out a procedure
The second inspection was done and I only had a matchstick-head-size hole; my mother was happy.
Fast forward to my high school days; I started experiencing intense pain in my abdomen but I could not inform anyone about this because I was embarrassed as I thought that was a normal phenomenon for every girl. The problem, however persisted and affected my daily activities  as I started experiencing difficulties with walking. The intense discomfort continued to affect me, changing my personality and leading to low self-esteem. I also had problems speaking in public.
One day when I just enrolled in college, I had this cola colored urine. I was so scared and rushed to the hospital. I explained the chronic pains I had endured for close to four years to a doctor. He said I had chronic urinary tract infection  and that it had started affecting my kidneys. I was so disturbed on hearing this news. I knew then I was dealing with one of the complications of FGM.
It was on that day that I resolved to be an advocate against FGM. I started with my family members, including my mother, who now agrees that FGM is bad and has terrible health consequences. I now have two beautiful daughters, who will not undergo the cut. The change I want begins with me. UNFPA has also given me the platform to work with young people to be the agent of social change against FGM.
----------------------------------------------------------
For more information please contact UNFPA Somalia Communications Specialist Pilirani Semu-Banda on e-mail: semu-banda@unfpa.org