Somalia's already fragile health systems have been tested to their limits since the country confirmed its first COVID-19 case on 16 March 2020. As of 3 June 2020, the Ministry of Health of the Federal Government states that the country has 2,146 confirmed cases. In total, 406 people have been known to recover and 79 people have lost their lives to COVID-19. The virus has managed to spread rapidly, particularly in Mogadishu, one of the most populated cities in the country.
Despite efforts by several agencies to address this crisis, at this point, a well-informed response could help prevent further spread of the virus and avert the negative impact of the pandemic. Key steps to assist this response would include earmarking the most vulnerable groups of people, understanding health-seeking behaviours and acknowledging the cultural patterns of socializing.
One of the resources Somalia has to its advantage is a wealth of information to tap into in order to guide action and extend the right support in a timely manner. The Somali Health and Demographic Survey (SHDS) 2020 that the Federal Government of Somalia and the Federal Member States carried out from 2018 to early 2020 offers a rich source of reliable and current information, in the form of key statistics and maps, that can be used to this end.
Earmarking and protecting potentially vulnerable populations
Interventions targeting vulnerable groups of Somalis could include focused advocacy to ensure this proportion of the population are aware of the ways in which COVID-19 spreads and how to stay safe. To ensure these populations can indeed follow globally prescribed advice, stakeholders would need to support these less-privileged groups with the right resources.
Limited access to water, for instance, threatens the already delicate situation. According to the SHDS 2020, only 61 percent of households have access to basic drinking water services. Among the nomadic households, that have traditionally travelled frequently in search for water, 45 percent travel longer than 30 minutes to access drinking water.
Older adults are known to be at a high risk of suffering from serious complications if they contract COVID-19. According to the SHDS, this would constitute around three percent of the Somali population aged 65 years and above. Of this population, around three percent live in urban households, three percent live in homes in rural areas and another three percent live in nomadic settlements.
Evidence also suggests that people with chronic diseases, particularly with severe health conditions, are finding it difficult to recover from COVID-19. Overall, six percent of household members interviewed during the SHDS stated they were suffering from at least one chronic disease. As an indication of the number of people who seek the right medical attention for long-term diseases, only around five percent of people with at least one chronic disease sought treatment.
Additionally, Somalis with disabilities—who comprise around five percent of the population according to the SHDS findings—would need to take extra precautions to ensure they are able to stay safe from the virus.
The SHDS, which divided populations equally into levels of five wealth quintiles, states that around 90 percent of the nomadic population lives in the poorest households. Around 32 percent of rural populations live in the poorest conditions, whereas four percent of urban-dwellers live in poorest households. These impoverished communities, who are in most cases struggling for survival, and are burdened with other pressing priorities, will find it difficult to cover the financial costs related to isolation and visiting skilled health professionals for support.
Health-seeking behaviour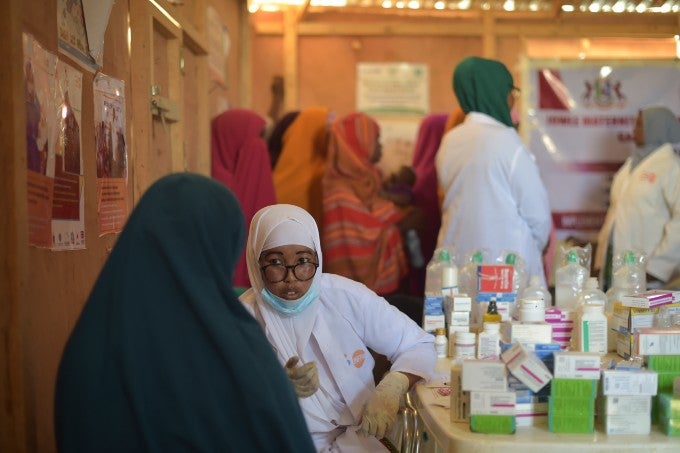 The SHDS found that 19 percent of households had at least one household member sick in the month preceding the survey, 66 percent of whom sought advice or treatment
The SHDS collected information on whether household members sought advice or treatment for their health conditions. Of the households covered, 19 percent had at least one household member sick in the one month preceding the survey. Among these households, 66 percent sought advice or treatment for a sick household member. Of the households with a sick member, 71 percent in urban settings sought medical advice or treatment, in comparison to 64 percent of rural households and 31 percent of nomadic households.
Fifteen percent of household members who had been sick stated they had visited a government hospital for advice or treatments, as compared to 27 percent who had visited private hospitals, clinics or doctors.
In general, the patterns observed in health-seeking behaviour can be used to predict responses by household members who contract COVID-19.  
Awareness of and attitudes towards diseases
By gaining insights into a population's knowledge of and perceptions about highly stigmatized diseases, stakeholders can predict similar reactions towards diseases such as COVID-19, and devise effective strategies to mobilize societies to curb their spread.
The SHDS collected information on the levels of knowledge around HIV/AIDS and attitudes towards HIV/AIDS among women aged 15-49 who have been married at least once in their lives. The survey found that around seven out of ten women in this group have heard of HIV/AIDS. Awareness is lower among nomadic and rural households and higher among educated and wealthier women. When questioned about the most common myths surrounding the spread of HIV/AIDS, only 12 percent of women interviewed rejected the two most common misconceptions about HIV/AIDS. These misconceptions are that HIV/AIDS can be spread by mosquitoes and supernatural means.
Moreover, the SHDS found that 48 percent of all women between the ages of 15-49 years had discriminatory attitudes towards people living with HIV/AIDS. Stigma is higher among older women, those with no education, and women of low-income backgrounds.
A rapid diagnostic survey conducted by Africa's Voices asked Somalis in selected states about their thoughts on COVID-19 in April. It found that one in ten respondents expressed thoughts on COVID-19 that involve rumour, stigma or misinformation. The survey also found that respondents fall into two camps–those invoking religious hope, practice and guidance as the right way forward (39 percent) and those who seek community action aligned to expert/government advice with a "call for right practice". This survey further states that Somalis of younger age groups, notably women, are more likely to advocate for following expert/government advice on the right practices.
Another survey conducted by the Star Media Development Centre in selected states in the country found that 82 percent of Somalis interviewed do not believe COVID-19 exists – and that 14 percent of people lack awareness around the virus.
Misinformation and stigma surrounding COVID-19 is likely to affect the uptake of health services, including antenatal care and immunization. This would affect the already dismally low levels of antenatal care and immunization reported by the SHDS—24 percent of women made visits for antenatal care, 21 percent of births were delivered in a health facility, and only 11 percent of children under the age of five years had received basic immunization against common childhood diseases.
Equipped with the right information, Somali policymakers and stakeholders can design strategies to raise awareness within Somali communities, protect the most vulnerable people in the society, and make timely decisions to prevent further spread of the virus.
------
As part of the initial stages prior to data collection, the SHDS 2020 compiled geo-tagged satellite imagery on households in Somalia. These images show places that are visited frequently by Somalis, and can be used to compare distance of households to health facilities