Anisa Ahmed, 21, from Garowe in the Puntland State of Somalia has just graduated from Samara University in Ethiopia with a degree in civil engineering. She fought against all odds to be where she is now; she narrowly escaped early marriage at the age of 16.
Her father had passed on when Anisa was only 13. Her brother, Mr. Mohamed Ahmed, took her under his wings. Mr. Ahmed works with the Ministry of Youth as an advocate for young people on a programme which is supported by UNFPA Somalia in ending child marriage.
"I was able to finish high school by the age of 16 because of the financial and moral support I received from my brother. He believes in the empowerment of girls," said Anisa.
Somalia, whose population is estimated to be 12.3 million, has a high child marriage prevalence rate; a UNFPA/UNICEF analysis done in 2014/2015 found that 45.3 percent of women in the country aged between 20 and 24 were married or in union before the age of 18.
Mr. Ahmed did not only support Anisa through school; he also played a crucial role in preventing her from getting married too early. Like many girls her age, she had a number of friends who got married while in school and subsequently dropped out but Anisa managed to finish high school. She however met her challenge soon after finishing high school. "At 16, I met a man 14 years older than me, and after few weeks of dating, he decided that it was time that he spoke to my family for permission to marry me," said Anisa.
As is the custom in Somalia, Anisa's husband-to-be mobilized his clan elders and requested a meeting with her family to propose the marriage. The meeting took place in a hotel not far from her home, but to the surprise of everyone present, Anisa's elder brother, Mr. Ahmed refused to marry her off, insisting that she was still young and had to continue with her education.
"But my fiancé insisted that I had agreed to the marriage and that my brother should respect my choice. Not wanting to upset the elders, my brother suggested to be given time to discuss the matter further. That night, following a very long debate with my brother, I finally changed my mind. ," said Anisa.
Fearing to embarrass the elders, Mr. Ahmed suggested to Anisa to travel to Mogadishu and stay with a relative there until the pressure to get married was no longer there.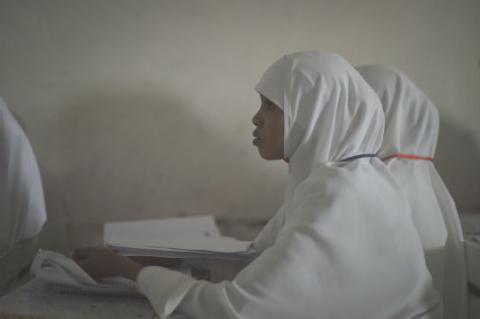 girls pursuing different careers instead of rushing into marriage
Meanwhile, many of Anisa's friends, including the girl she used to sit next to in class, got married and divorced in no time.
"I was sad to see one of my closest friends in school getting married, giving birth to a baby girl and getting divorced just a year later," said Anisa. "This is one of the issues that made me to informally become an advocate against early marriage. I constantly encourage my younger sisters to study harder," said Anisa.
Anisa wants to pursue graduate studies in top world universities in architecture and design to help Somalia urbanize in a modern and environmentally friendly way in the future.
Anisa's brother, Mr. Ahmed says that early marriage destroys a girl's potential for a better future and that a mature and educated girl can better raise a family and make contributions to the greater welfare of the society.
According to UNFPA, child marriage is a human rights violation. Despite laws against it, the practice remains widespread: Globally, one in every five girls is married, or in union, before reaching age 18. In the least developed countries, that number doubles – 40 per cent of girls are married before age 18, and 12 per cent of girls are married before age 15.
Child marriage threatens girls' lives and health, and it limits their future prospects. Girls pressed into child marriage often become pregnant while still adolescents, increasing the risk of complications in pregnancy or childbirth. These complications are the leading cause of death among older adolescent girls.
UNFPA promotes policies, programmes and legislation designed to end child marriage. UNFPA supports evidence-based, girl-centred investments that empower girls with the information, skills and services they need to be healthy, educated and safe, helping them make a successful transition to adulthood. UNFPA also works to support the needs of married girls particularly in family planning and maternal health.
                                                                                                                                                                                                                                                                                                            - Abdisalam Bahwal
--------------------------------------------------------
For more information please contact UNFPA Somalia Communications, Partnerships & Donor Relations Specialist Pilirani Semu-Banda on e-mail: semu-banda@unfpa.org