Ensuring rights and choices for all
12 April 2019
New UNFPA Representative to Somalia presents credentials
Mogadishu, 11 April 2019 – The UNFPA Representative, Mr. Anders Thomsen, today officially presented his credentials to the Federal Republic of Somalia. The Minister of Foreign Affairs and International Cooperation,...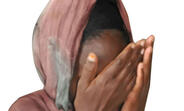 Fifty years ago, it was hard for women to obtain contraception and relatively easy to...

This year's State of the World Population (SWOP) report comes at the 50th anniversary of...
No vacancies currently available