UNFPA: Delivering a world where every pregnancy is wanted,
every childbirth is safe and every young person's potential fulfilled.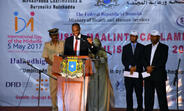 8 May 2017
Somalia Prime Minister leads Midwifery Day celebrations
Somalia commemorated the International Day of the Midwife on 8 May 2017 with pomp and splendor at a function held at the Mogadishu Police Academy. Somalia Prime Minister His Excellency Hassan Ali Khayre attended the...
4 May 2017
Puntland celebrates International Day of the Midwife
The Puntland Association of Midwives (PAM), together with Puntland Ministry of Health, Haji Abdi midwifery students, health service providers and civil society organizations celebrated the International Day of the...
The Somali Adolescents & Youth - Boom or Gloom?
Handover of Central Medical Warehouse and Ambulance to Somaliland
Graduation of midwives in Puntland
Joint UNFPA/UNICEF FGM programme in Somalia