UNFPA: Delivering a world where every pregnancy is wanted,
every childbirth is safe and every young person's potential fulfilled.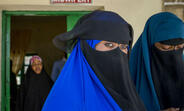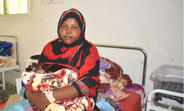 18 July 2017
Saving pregnant women and new-borns facing drought
UNFPA Somalia continues to scale up efforts in ensuring that no woman or new-born dies during birth and protecting women and girls from gender-based violence (GBV) even in the current drought situation ravaging Somalia.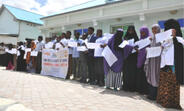 17 June 2017
Puntland youth stand against harmful traditional practices
Young people in Puntland, led by the Puntland Y-Peer commemorated the Somali Youth Day on 15 May 2017 with renewed zeal and vigour to work towards ending harmful traditional practices including female genital mutilation...
The Somali Adolescents & Youth - Boom or Gloom?
Handover of Central Medical Warehouse and Ambulance to Somaliland
Graduation of midwives in Puntland
Joint UNFPA/UNICEF FGM programme in Somalia