UNFPA: Delivering a world where every pregnancy is wanted,
every childbirth is safe and every young person's potential fulfilled.
6 February 2018
FGM – I was cut and sewn up – not once but twice
UNFPA Somalia Youth Programme officer, Fatuma Muhumed, narrates her ordeal with Female Genital Mutilation (FGM): I remember vividly that it was on a bright, sunny morning when my mother called me and calmly informed me...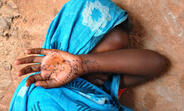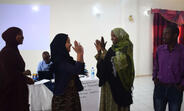 19 December 2017
Young people fight GBV and promote health through drama
Members of the Somaliland Youth Peer Education Network (Y-Peer) have started utilising theatre skills and participatory drama methodology to raise awareness on gender-based violence (GBV) and sexual and reproductive...

The drought situation continues to pose a threat to women during pregnancy or delivery....

UNFPA Somalia Newsletter for August 2017 covers different stories on the interventions...